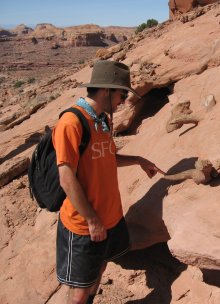 Spring Canyon Adventure 2007
with Charles Yeamans and Andy Exley
by Reid Priedhorsky
In March 2007, my longtime friend Charles Yeamans, my new friend Andy Exley, and I traveled to the canyon country of southeast Utah for a fabulous adventure, exploring two particularly remote, rugged, and pristine canyons. We were in the backcountry for eight days and didn't see anyone else the whole time.
These particular canyons are underdocumented, and I'd like to keep them that way. Therefore, this report does not contain location-revealing information. (Obviously, someone who is particularly clever or familiar with the area can figure it out. I just want to hide the information from casual inspection and keep it out of Google results for the relevant places.)
This trip report was written and organized by me. Uncredited photos were taken by me. This trip report is copyright 2007 by Reid Priedhorsky, and all images are copyright 2007 by their respective owners. All rights are reserved.
I would love to hear from you! Please send email to reid@reidster.net.
Contents
This trip report contains 183 photos and about 9,000 words.
Introduction. Preliminary and random thoughts, and travel to Utah. Start here.
Day 1. Backpack from the trailhead at B— Point into T— Canyon. 9 miles. Monday, March 12.
Day 2. Dayhike in T— Canyon. 5 miles. Tuesday, March 13.
Day 3. Dayhike in T— Canyon. 8 miles. Wednesday, March 14.
Day 4. Climb out of T— Canyon for great views and to peer into S— Canyon. 9.5 miles. Thursday, March 15.
Day 5. Backpack from T— Canyon into S— Canyon. 10.5 miles. Friday, March 16.
Day 6. Rest day. 2 miles. Saturday, March 17.
Day 7. Explore upper S— Canyon. 8 miles. Sunday, March 18.
Day 8. Backpack out. 13 miles. Monday, March 19.
Menu Notes. Detailed menu and notes on its successes and failures.