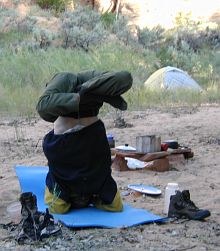 Escalante Adventure 2005
with Charles, John, and Reid
Welcome to our trip report! In May-June of 2005, the three of us (Charles Yeamans, John Garbe, and Reid Priedhorsky) went on a multi-week backcountry adventure in the Escalante River region of Utah's canyon country.
The trip had three parts:
A dayhike in upper Middle Moody Canyon.
Ten days of backpacking, centered around Death Hollow ("Part A").
Four more days of backpacking, in The Gulch with the Los Alamos Mountaineers ("Part B").
These trip report pages were written and organized by Reid, with assistance from Charles, John, and a few others. The report is organized by day and is illustrated with photos and maps. You can click on captioned images for a larger version; for many images, a still larger (i.e. humongous) version is available under "full size". Uncredited photos were taken by Reid, and the first-person point of view is Reid's. All images are copyright 2005 by their respective owners, and all rights are reserved.
The best way to read this report is probably to start with the Maps page, where you can get your bearings and see exactly where we were, and proceed sequentially. Also, this report has a one-column layout, so you may want to narrow your browser window for easier reading.
Finally, we would love to hear from you! Reid's email address is at the bottom of every page, and he is happy to pass on comments to everyone.
Addendum added Feb. 11, 2006: I just discovered my trip journal from when I visited this region in 1996, when I was in high school.
Contents
This report contains 19 maps, 191 photos, and 17,000 words. The photos included here were selected from a total of 712 taken by four principal photographers.