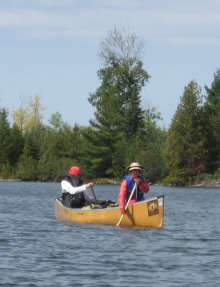 BWCAW 2007
with the Los Alamos Mountaineers
by Reid Priedhorsky
These pages describe a canoeing trip in the Boundary Waters led by me under the auspices of the Los Alamos Mountaineers. We visited 27 lakes in 50 miles, including Snowbank, Enson, Kekekabic, Fraser, Thomas, Ima, and Disappointment.
Testimonials:
"Terrible conditions ... an extremely tiring paddle."
— Andy Exley

"A pretty stupid idea."
— Rick Kelley

"One of the most frightening experiences of my life."
— Bill Priedhorsky
This trip report was written, organized, and copyright 2008 by Reid Priedhorsky. Images are copyright 2007 by their respective owners. All rights are reserved.
Feedback welcome. Please send email to reid@reidster.net.
Contents
This trip report contains 118 photos and about 8,000 words.
Getting there. Overview map and travel to Snowbank Lake. Start here!
Day 1. Snowbank Lake to Vera Lake. 6.87 miles paddling and 4 portages totaling 552 rods.
Day 2. Vera Lake to Spoon Lake. 5.54 miles paddling plus 5 portages totaling 341 rods.
Day 3. Spoon Lake to Kekekabic Lake. 1.50 miles paddling plus 2 portages totaling 110 rods.
Day 4. Layover on Kekekabic Lake. 4.41 miles paddling plus 5.94-mile dayhike.
Day 5. Kekekabic Lake to Thomas Lake. 7.75 miles paddling plus 5 portages totaling 262 rods.
Day 6. Thomas Lake to Ima Lake. 4.36 miles paddling plus 4 portages totaling 111 rods.
Day 7. Ima Lake to Snowbank Lake. 8.22 miles paddling plus 8 portages totaling 329 rods.