BWCAW 2007 – Day 1
Synopsis: Snowbank Lake to Vera Lake. 6.87 miles paddling and 4 portages totaling 552 rods.
Today's map.

Base map courtesy USGS; overlay by Reid Priedhorsky.
medium (199k), large (590k), full size (1001k)
The rain continued off and on the whole night, and it was still raining in the morning. On waking, Andy and I decided to pack up and head to the put-in, and eat our breakfast (coffee cake) there.
Packing up to go to the put-in Sunday morning.

Photo by Reid Priedhorsky.
medium (144k), large (401k), full size (1533k)
At the put-in, the rain continues. The others show up more or less on time, but the canoes — due at 8am — do not. We wait. When the rain is less, I wander around. Despite the rain it is great to be in the woods again.

Looking north-northeast from the public dock on Snowbank Lake. A portage on the far side of the lake is our first goal.
Photo by Reid Priedhorsky.
medium (191k), large (558k), full size (2126k)
At 8:45 we send a car back to Smitty's to call Piragis (no cell phone reception here). They return with a report that the driver had been sitting in Ely, expecting us there, even though the paperwork said clearly to meet us at the public dock on Snowbank Lake! But, now he's on his way.
Around 9:30, a Piragis van burns rubber into the parking lot, apologizes profusely, and we unload the canoes.
(I should note that Drew, my contact at Piragis during the planning process, apologized after the trip and refunded the cost of the canoe shuttle. Given the generally excellent level of service otherwise, I'd recommend Piragis despite the foul-up.)
Loading up. L-R: Reid, Marilyn, Jan, Andy.

Photo by Bill Priedhorsky.
medium (140k), large (366k), full size (1069k)
We paddle northeast on a calm Snowbank Lake. The silver lining in the late departure is that the rain has stopped.
Bill paddles along while fearless leader Reid wonders where the portage is.

Photo by Rick Kelley.
medium (121k), large (324k), full size (457k)
First portage, from the northeast corner of Snowbank Lake to a small, unnamed pond.

Photo by Reid Priedhorsky.
medium (222k), large (595k), full size (2161k)
| | |
| --- | --- |
| | A smooth paddle across the pond. L-R: Dick, Jan, Andy, Rick, Marilyn. |
Another portage, and we continue northeast across Boot Lake to the next portage, a monster 220 rods to Ensign Lake. It starts to drizzle again, so we decide to do the portage and then have lunch.
We attempt to single-portage (i.e., carry everything in one go). This turns out to be a little much. I carry a heavy food pack and a canoe. The task seems sysiphean, and there's a pond halfway through expressly to mock unfortunate greenhorns.
All things come to an end, though, and the Ensign Lake side of the portage contains a fine beach and sun. After a few trips back into the woods to pick up abandoned gear, we plop down for lunch.
(Later review of the GPS data shows the portage to be 307 rods, not 220, or nearly a mile.)
Bill, Marilyn, Andy, and myself displaying completely foul portage etiquette by eating lunch in the middle of it. However, others were apparently wiser than we, and nobody else came along.

Photo by Jan Studebaker.
medium (293k), large (751k), full size (1067k)
The two miles across Ensign Lake are a fine paddle in great weather. There's a lot of complaining at the 180-rod portage to Vera Lake, but we don't try to single it. (Also, the GPS later shows that it's only 156.)
Attempt to save portaging effort on the Ensign-Vera portage. Fortunately, Andy and I were able to talk them out of doing it again.

Photo by Dick Opsahl.
medium (191k), large (475k), full size (2947k)
We take the second campsite on Vera, on top of a rock with a fine view.

Relaxation time in camp on Vera Lake.
Photo by Reid Priedhorsky.
medium (357k), large (1005k), full size (3037k)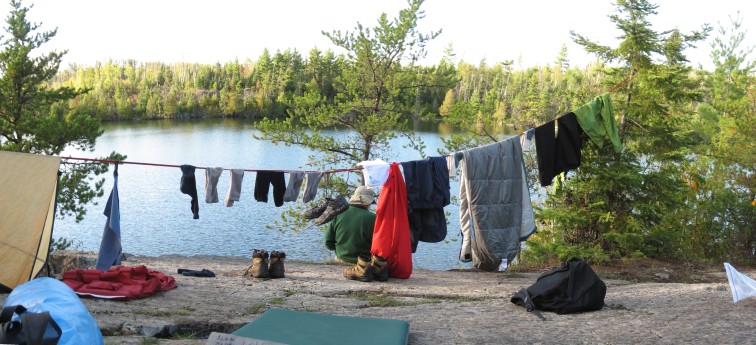 Laundry time in camp on Vera Lake.
Photo by Reid Priedhorsky.
medium (251k), large (686k), full size (2345k)
I set up the bear bag using my fancy new method, complete with two pulleys and 150 feet of brand-new utility cord.
Evening light on a couple of birch trees near camp.

Photo by Bill Priedhorsky.
medium (95k), large (239k), full size (1171k)
It turns out that my bear-bag method is a total mess due to the stretchiness of my rope and the bendiness of the tree I selected, not to mention the great mass of seven people's food.
We require not one but two new bear bags. This turns into a 90-minute epic in the dark, complete with large branches crashing down to narrowly miss us. Not my finest hour.
Please continue reading on Day 2.