BWCAW 2007 – Day 2
Synopsis: Vera Lake to Spoon Lake. 5.54 miles paddling plus 5 portages totaling 341 rods.
Today's map.

Base map courtesy USGS; overlay by Reid Priedhorsky.
medium (159k), full size (523k)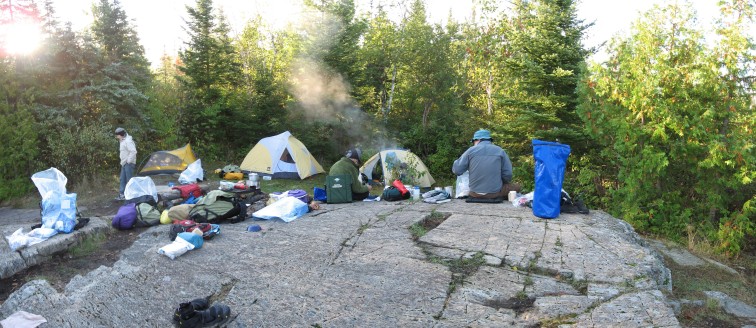 Morning in camp on Vera Lake.
Photo by Reid Priedhorsky.
medium (326k), large (925k), full size (3271k)
It's a sunny day in the morning. We have a nice, leisurely breakfast and packing period and push off, continuing east.
Andy and Rick embark while Dick and Marilyn wait offshore.

Photo by Reid Priedhorsky.
medium (179k), large (486k), full size (1832k)
The first two portages are 81 and 33 rods, with a quick dip in Trader Lake in between. Then it's across Missionary Lake and up and over 181 rods to Skoota Lake. This portage is high and rocky, with a fine view.
Unloading at a portage landing (Vera-Trader?).

Photo by Dick Opsahl.
medium (241k), large (650k), full size (2876k)
Dick portaging a canoe. Jan and Bill follow.

Photo by Rick Kelley.
medium (142k), large (369k), full size (905k)

Skoota Lake from the portage landing on the southwest shore.
Photo by Reid Priedhorsky.
medium (222k), large (616k), full size (2198k)
We have lunch at a campsite on the northwest shore of Skoota Lake. It's a nice site if slightly barren. This area was heavily impacted by the windstorm eight years ago.
We continue east through Dix Lake, then one more short portage and we're at Spoon Lake, our destination for the evening.
A loon, the Minnesota state bird.

Photo by Rick Kelley.
full size (110k)
We reject the first campsite, the second is occupied, and we accept the third. It's pretty nice. It's got a view to the west, with is usually rather desirable for sunset-watching, but the wind has picked up and it's a bit breezy.
Dick, Rick, and Marilyn enjoying their dinner. I am not sure what Andy is up to.

Photo by Bill Priedhorsky.
medium (219k), large (564k), full size (696k)
Dinner turns out to be more interesting than we had hoped. During its cooking, we could occasionally smell a faint but bizarre odor. This was the indeed the food itself — freeze-dried, but gone bad, with a truly foul plasticky taste.
Andy is doing a fine job of grin-and-bear it but quickly comes around upon discussion.
The offending packs had been on several trips already and were rather beat up. We speculated that one of the seals had broken.
Fortunately, the cooks hadn't planned out exactly which freeze-dried food we would eat when, and there was extra. So we didn't starve.
After dinner, we build a campfire. It turns out that you can take a dead birch log, shake all the rotten wood out of it, poke a stick through it, set the thing on fire, and then hold it so the wind goes through the tube.
Don't tell your mother you do this.

Photo by Bill Priedhorsky.
medium (109k), large (276k), full size (1329k)
It starts to get windier, and then to drizzle. We go to bed, hoping that the weather will blow through overnight and be nicer in the morning.
Please continue reading on Day 3.