BWCAW 2007 – Day 4
Synopsis: Layover on Kekekabic Lake. 4.41 miles paddling plus 5.94-mile dayhike.
Today's map. Our dayhike is the yellow-and-black line.

Base map courtesy USGS; overlay by Reid Priedhorsky.
medium (205k), full size (538k)
In the morning it is sunny and calm, though still chilly. It is a welcome relief from the past 36 hours.
This would be our layover day, with an optional dayhike.
One of two islets in front of camp. Someone had suggested hanging our bear bag on that white pine. I'm not sure if they were serious or not.

Photo by Bill Priedhorsky.
medium (160k), large (431k), full size (684k)
Layover day means a "special" breakfast (i.e., not mush). A very fine pancake if I do say so myself.

A note on the boots at top. These are Andy's boots, that he wore to the canyon country in March (read about it). Through December, these boots were producing sand in tablespoon quantities. As of February this seems to have mostly stopped, though you can still get a little if you want.

Photo by Reid Priedhorsky.
medium (146k), large (376k), full size (1394k)
Bill, Jan, and Andy eating breakfast. Pancakes go round-robin since only one can be cooked at once. Here Jan is chowing down while Andy watches in anticipation.

Photo by Reid Priedhorsky.
medium (201k), large (533k), full size (1940k)
Camp is on top of this rock outcropping.

Photo by Reid Priedhorsky.
medium (198k), large (510k), full size (1840k)
The plan is to paddle to the south side of the lake and pick up the Kekekabic Trail, which crosses a portage, and then follow that up a hill in hopes of a lookout.
Rick chooses to stay behind to relax and fish.
Folks prepare for a dayhike in the sun.

Photo by Reid Priedhorsky.
medium (231k), large (632k), full size (2336k)
The six of us heading south across the lake.

Photo by Rick Kelley.
medium (133k), large (353k), full size (493k)
| | |
| --- | --- |
| | With one in camp instead of seven, hungry critters such as this chipmunk appear. |
The two mile paddle is quick and easy. Jan and Andy pull up at a campsite thinking it's the portage, which is funny.
The portage landing on the south side of the lake is at the head of this wonderful inlet.

Photo by Bill Priedhorsky.
medium (222k), large (590k), full size (701k)
We head up the portage and shortly turn left onto the Kekekabic Trail. Compared to the portage, it is narrow, faint, and overgrown. The New Mexicans are suitably impressed.
We push on for three miles or so. There is an occasional glimpse through the trees, but it is mostly a wooded trail, and sometimes a rough one. We cross several small streams and go up and down several hills before beginning a more sustained climb. (To put the hike in perspective for Westerners, however: note that the total elevation gain on this hike is about 300 feet.) We reach a fork and head left, towards the top of the hill and a "Kekekabic Lookout Tower", probably the location of an old Forest Service fire tower.
On top, there's no break in the forest and no view. A small spur trail leads off to a boulder which yields a bit of view to the south. Was this the location of the lookout tower? There's no trace now.
We continue over the hill and head down the north side. Just as we are about to turn around, Bill spies an opening on the left, and we crash through a few yards of bushes to emerge on a rock ledge with a good view, which will make a fine lunch spot.
At the lunch spot. L-R: Dick, Jan, Andy, Marilyn, Reid.

Photo by Bill Priedhorsky.
medium (208k), large (529k), full size (3064k)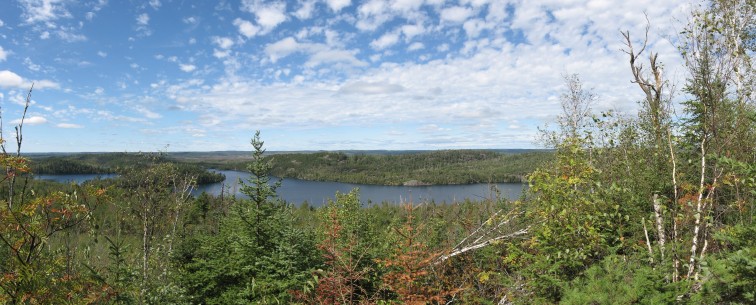 Looking north from the fire tower hill over Kekekabic Lake and Canada not too far beyond. The small water body at left is actually another lake, called Kek Lake (no joke).
Photo by Reid Priedhorsky.
medium (299k), large (857k), full size (2846k)
After lunch and a view we turn around and hike back the way we had come. It's about three miles but feels very long.
All along here are areas with thick brush and small trees, nothing much more than 8-12 feet tall. We assume that this is the result of fire, since there don't seem to be enough downed trees laying around for it to be from the 1999 windstorm.
Moth on a birch at a rest stop.

Photo by Reid Priedhorsky.
medium (134k), large (353k), full size (1358k)
After we returned to Kekekabic Lake, there was complaining about dirt and odors. Jan and Bill jumped into the water to do something about it. There was a lot of complaining about coldness.

Photo by Reid Priedhorsky.
medium (208k), large (576k), full size (2164k)
It was breezy once we got onto the lake. Instead of heading directly back northwest, we headed due north to investigate the recommended campsite. It doesn't seem to be nearly as nice as advertised. We wonder if we missed something or if the one my sister had mind was the one next door to us on the north side.
The wind kicks up further as we cross the big lake. We quarter into the wind, and it's long slog home.
Dick and Marilyn approaching camp.

Photo by Rick Kelley.
medium (194k), large (532k), full size (798k)
Rick caught these fine fish while we were away.

Photo by Dick Opsahl.
medium (228k), large (592k), full size (2991k)
Trail of froth passing by our islet.

Photo by Bill Priedhorsky.
medium (160k), large (426k), full size (704k)
As I recall, it was an uneventful evening. It stayed windy, but nothing like the evening before.
Please continue reading on Day 5.