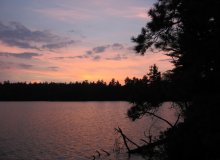 Sioux-Hustler Trail 2007
with the lovely Erin Tatge
and Mike & Wendy Mulville
by Reid and Erin
In July 2007, Erin and I returned to the Sioux-Hustler Trail in the Boundary Waters, accompanied this time by Mike and Wendy Mulville.
(Our previous trip report is online as well.)
This trip report was written and organized by Erin Tatge and Reid Priedhorsky, and this trip report is copyright 2007 by them. Images are copyright 2007 by their respective owners. All rights are reserved.
We would love to hear from you! Please send email to reid@reidster.net.
Contents
This trip report contains 55 photos and about 3,500 words.