Sioux-Hustler Trail 2007 – Day 3
Synopsis: Range Line Lake to Agawato Lake. 7 miles. Monday, July 23.

Range Line Lake as we are nearly ready to go.
Photo by Reid Priedhorsky.
medium (312k), large (897k), full size (3097k)
Erin took a spill on the trail as soon as we got out of camp — nothing hurt but her pride, but that really stung!
Today was shaping up to be really hot and humid.
A very hot and sweaty break in the woods, on the high ground above Hustler Lake.

Photo by Reid Priedhorsky.
medium (232k), large (624k), full size (2299k)
| | |
| --- | --- |
| | Reid standing in the trail. |
| | |
| --- | --- |
| | The same tree in 2005, two years earlier. |
Wendy was in the lead as we approached Shahola Creek, the beaver dam crossing where Erin and Reid had gotten so frustratingly lost two years before. There were a few really big deadfall snags coming up to the creek, but we got around those and walked on the path straight to the proper crossing! Reid suspects we had left the path at one of those snags, which got us into trouble.
| | |
| --- | --- |
| | Reid approaching Shahola Creek. The ferns came up above our elbows. |
Shahola Creek: no problem.

Photo by Reid Priedhorsky.
medium (246k), large (700k), full size (2620k)
Across the pond is the beaver dam where we got so lost last time.

Photo by Reid Priedhorsky.
medium (104k), large (296k), full size (1235k)
The day was again very hot and very sweaty. We didn't remember the trail being his hard before, but the heat must have been a factor this time. Every night, we were ready to just lay around for hours.
Agawato Lake was our destination today, which Erin remembers as being one of the prettier places she's seen in the Boundary Waters. It lived up to her memories. What a wonderful place to camp!
The turnoff to the Agawato Lake trail was another place where the new map was noticeably wrong.
An unwelcome hitchhiker on Reid's pack.

Photo by Reid Priedhorsky.
medium (118k), large (328k), full size (1421k)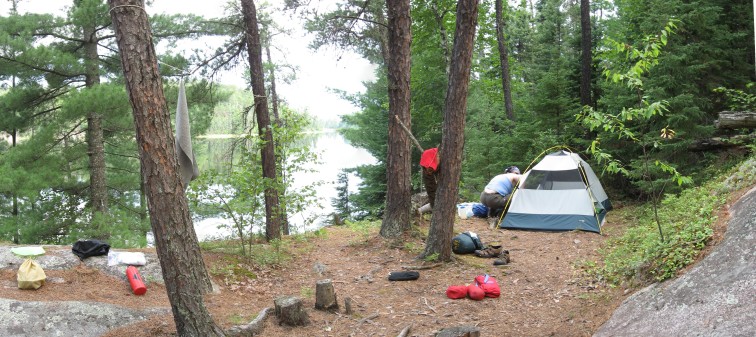 This is the only decent tent pad. Mike and Wendy ended up on a slope with roots and rocks. Since their larger 3-man tent didn't fit here, we didn't have to have the discussion of who gets the good spot...
Photo by Reid Priedhorsky.
medium (328k), large (928k), full size (2980k)
Everyone went for a swim here. The rocks were slippery on the way in, but after such a hot day, the water felt heavenly.
| | |
| --- | --- |
| | Trees at Agawato Lake. |
| | |
| --- | --- |
| | Sun behind a tree. |
| | |
| --- | --- |
| | Reid cooking supper (famous enchiladas!). |
| | |
| --- | --- |
| | Along the spur trail leading from the main trail to the campsite (which is also the latrine trail). |
Wendy was driven away by the bugs soon after supper. (They seemed to like her the best of all of us.) Mike built a small fire, but Reid and Erin were attacked by mosquitoes too after only a few minutes and ran to their tent as well.
Data for today:
Deadfall: 56, but only 4 past Shahola
Ticks removed: Mike, 1, but it was in his beard. Ewww!
Please continue reading on Day 4.