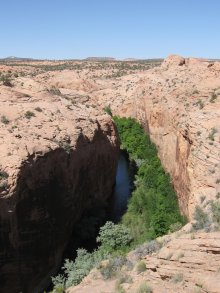 Escalante Adventure 2006
with the Los Alamos Mountaineers
Welcome to my trip report! In May-June of 2006, I was fortunate enough to attend a backcountry adventure on the Escalante River in Utah's canyon country. This trip was led by my dad, Bill Priedhorsky, under the aegis of the Los Alamos Mountaineers adventure and general mischief club.
My dad has written a trip report for this trip as well. You might also be interested in my reports from other trips.
These trip report pages were written and organized by me, Reid Priedhorsky. You can click on captioned photos for a larger version; for some images, especially maps and panoramas, truly gargantuan versions are also available. Make sure your browser and net pipe can handle it before you click. Uncredited photos were taken by me, and the first-person point of view is mine. All images are copyright 2006 by their respective owners, and all rights are reserved.
I would love to hear from you! My email address, reid@reidster.net, is at the bottom of each page. My previous Escalante report has generated a very slow but steady stream of comments, and they make my day.
Contents
This report contains 114 photos and 10,000 words.
Introduction. Maps, preliminary ramblings, and travel to Utah. Start here!
Day 1. Hike from trailhead on Old Sheffield Road to "E-Cave" campsite on the Escalante River. Sunday, May 28.
Day 2. Climb "River" north of camp. Monday, May 29.
Day 3. Visit tanks from last year, return via Boulder Creek. Tuesday, May 30.
Day 4. Explore slickrock and a slot canyon downstream of camp. Wednesday, May 31.
Day 5. Hike to Bowington Arch and some ancient rock art. Thursday, June 1.
Day 6. Hike out via Escalante River. Friday, June 2.
Return home. Drive to Las Vegas and fly home. Friday, June 2 and Saturday, June 3.