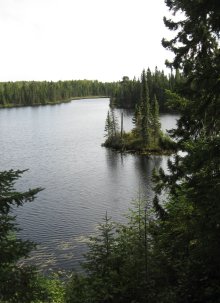 Boundary Waters Adventure 2006
with the lovely Erin Tatge
Welcome to our trip report! In the late summer of 2006, Reid Priedhorsky and Erin Tatge went on a backpacking trip to the Boundary Waters Canoe Area Wilderness in northern Minnesota. Nearly everyone uses a canoe to get around the BWCAW, and at times, sweating through the forest and climbing over piles of deadfall, we seriously pondered the merits of canoeing instead. However, there are a lot of great things you can't see by canoe, and backpacking is a fine way to see the joint.
These trip report pages were written and organized by both of us. You can click on captioned photos for a larger version, but be aware that large is frequently very large indeed. Uncredited photos were taken by Reid. This trip report is copyright 2006 by Reid Priedhorsky and Erin Tatge, and all images are copyright 2006 by their respective owners. All rights are reserved.
We would love to hear from you! Please send email to reid@reidster.net.
Contents
This report contains 33 photos and 6,500 words.