SAGBRAW 2007 – Day 1
Synopsis: Door County loop, 60 miles. Monday, July 30.
| | |
| --- | --- |
| Official route mileage: | 53.3 |
| Distance we traveled: | 60.0 |
| On the road: | 8am to 4pm |
| Time on the bike: | 4:22 |
| Computer to keep track of it:  | Priceless |
Day 1 route.

Base map courtesy USGS; overlay by Reid Priedhorsky.
medium (179k), large (554k), full size (2804k)
Today's weather was lovely: sunny and a little warm, but it was late July in Wisconsin, so what do you expect? About 10 minutes into the ride we saw a rider who had fallen. An ambulance was pulling away as we arrived. Kathy had told us that for our safety, any time we called the sag wagon with any injury, they would call an ambulance. (Someone asked about this incident a few days later at a rider meeting, but Eric gave a non-answer.)
The sag wagon is a support vehicle. Traditionally, they drive up and down the route looking for cyclists with mechanical troubles, but on this trip (due to limited staff, gas prices, and the ubiquity of cell phones) we were provided a phone number and asked to call if anything came up.
This was the most scenic day of biking, as well as the longest. Door County is very pretty, and as it's a peninsula, we were by the lake most of the day.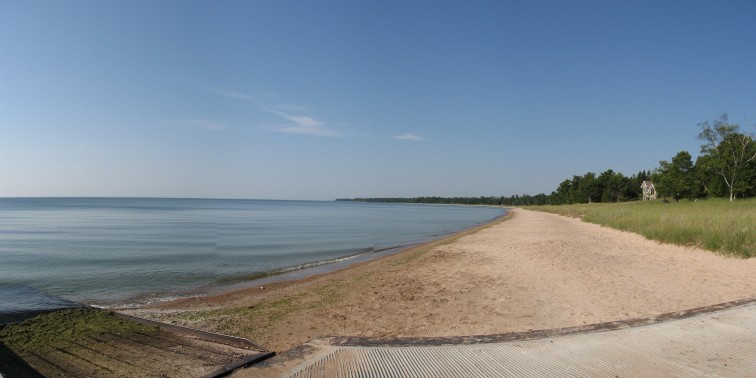 First stop at Lake Michigan. This was at an unnamed pullout along the road. Not so bad, eh?
Photo by Reid Priedhorsky.
medium (117k), large (369k), full size (1483k)
Me and Reid on Lake Michigan.
Photo by Erin Tatge.
full size (130k)
The first part of the day had many shaded winding roads, and we saw several people out for walks.
Our next stop was a little detour to Cave Point County Park, not on the official route but rumored to be scenic.
We also stopped at Whitefish Dunes State Park just up the road — an "official" but not very well marked stop.

Beach at Whitefish Dunes State Park.
Photo by Reid Priedhorsky.
medium (222k), large (669k), full size (2419k)
The next stop was Schoph Hilltop Dairy Store — very Wisconsin. We arrived at about 10am for some excellent ice cream (the tour had convinced the Schophs to open an hour early, and they said it had been packed since 7am). We also got to watch a very bored guy milking an endless parade of cows.
Me applying chapstick at Schoph Hilltop.

Photo by Reid Priedhorsky.
medium (108k), large (305k), full size (1268k)
We continued slightly uphill into the interior. Shortly Reid had a problem.
Aarggggh! Flat tire.

It was caused by a tiny piece of glass which had worked its way inside over weeks or months. Reid is inspecting his tire for more (there were a lot!).
We came to the west shore of the peninsula and turned right, going north to Egg Harbor for a late lunch. The town was crawling with cyclists. It seemed like we were at the back of the pack but riding faster than many: at each stop, there was a crowd when we arrived but few people around by the time we left.
We ate very tasty sandwiches at a deli, choosing a picnic table on the lawn under a tree.
Next, we backtracked south and continued down the coast. Along this stretch we were passed by one of only the handful (thankfully) of obnoxious drivers we encountered on the tour, but no cyclists returned the yelling or obscene gestures. It is really frustrating to deal with people who think your fair share of the road is none and who make their arguments with obscenities.
Overall, drivers were exceptionally courteous. This made us happy.
Last rest stop of the day, only a few miles out from Sturgeon Bay. It was staffed by a church group handing out free chex mix. Kathy warned us at length later not to get used to free food at rest stops.

Photo by Reid Priedhorsky.
medium (96k), large (289k), full size (1242k)
We returned to Sturgeon Bay High School and collapsed. Reid replaced the tire that had flatted, declaring it worn out.
Reid's makeshift repair jig.

Photo by Reid Priedhorsky.
medium (154k), large (398k), full size (2334k)
There was a "new rider meeting" scheduled for that evening, and I had hope it would be about being a new rider on a group tour. Unfortunately it turned out to be about being a new cyclist and things like how to change a tire. Much less interesting, especially since I had an up-close and personal demonstration earlier in the day.
Another all-rider meeting led by Kathy was somewhat painful and repetitive.
Please continue reading on Day 2.