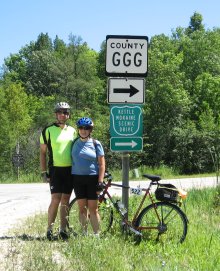 SAGBRAW 2007
with the lovely Erin Tatge
by Erin and Reid
Welcome to our trip report! SAGBRAW is an annual 5-day bike tour in Wisconsin, and in the summer of 2007 Reid and I rode the 235 miles from Door County to Kewaskum. These web pages detail our adventure.
This trip report was written and organized by Erin Tatge and Reid Priedhorsky, and this trip report is copyright 2007 by them. Images are copyright 2007 by their respective owners. All rights are reserved.
We would love to hear from you! Please send email to tatgeer@gmail.com (Erin) and/or reid@reidster.net (Reid).
Contents
This trip report contains 41 photos and about 5,000 words.
Getting there. Overview map and travel to Kewaskum. Start here!
Day 1. Door County loop, 60 miles. Monday, July 30.
Day 2. Sturgeon Bay to Kewaunee, 43 miles. Tuesday, July 31.
Day 3. Kewaunee to Manitowoc, 52 miles. Wednesday, August 1.
Day 4. Manitowoc to Sheboygan, 30 miles. Thursday, August 2.
Day 5. Sheboygan to Kewaskum, 50 miles. Friday, August 3.