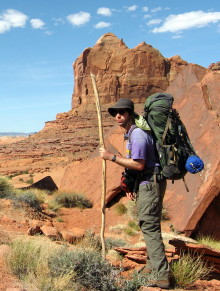 Stevens Canyon 2009
by Reid Priedhorsky
These pages describe a backpacking trip led by Reid to Stevens Canyon in the Escalante canyon country. Nine of us traveled for nine days in the backcountry.
This trip report was written and organized by Reid Priedhorsky and is copyright 2009 by him. Images are copyright 2009 by their respective owners. All rights are reserved.
Feedback and questions welcome. Please send e-mail to reid@reidster.net.
Testimonials
"I was not prepared for the gastrointestinal changes on the third day ... very loose stools (three in total)."
"More accurate descriptions of the strenuousness would have been nice."
"... much longer than I had anticipated."
"Blisters"
"I accidentally set fire to a dry shrub while burning my toilet paper."
(Actual feedback received from trip participants.)
Contents
This trip report contains 242 photos and about 7,000 words.
Introduction. Travel to the Escalante and cast of characters. Start here!
Day 1. Hike down The Crack and camp along the Escalante River. April 16, 2009.
Day 2. Hike 16 meanders up Stevens Canyon. April 17, 2009.
Day 3. Hike remaining distance to base camp, near the foot of the Baker Trail. April 18, 2009.
Day 4. Dayhike to unnamed side canyon. April 19, 2009.
Day 5. Dayhike to top of Waterpocket Fold via Baker Trail. April 20, 2009.
Day 6. Dayhike exploring vicinity of camp. April 21, 2009.
Day 7. Dayhikes to unnamed side canyon and the pass into Fold Canyon. April 22, 2009.
Day 8. Hike most of the way back down Stevens Canyon. April 23, 2009.
Day 9. Hike out. April 24, 2009.
Pre-trip planning page with lessons learned.